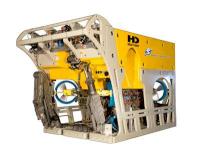 Specialist Subsea Services (S3) has announced the purchase of two new ROVs from FMC Technologies Schilling Robotics.
The acquisitions, worth in excess of £4,000,000, form part of the company's ambitious global growth plans and bring the total number of work class ROVs within S3's fleet to six.
The two Schilling-HD 150hp systems are both rated to 3,000msw and will provide industry leading performance for high quality pipeline surveys, IRM, drill support and heavy duty construction operations.