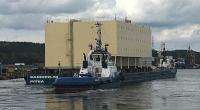 A 147-room complete hotel module will be lifted on board the Maersk Guardian to finalise a major conversion of the upcoming hotel rig.
Following design and construction of a turnkey accommodation module with 147 chambers and appertaining facilities for accommodation rig Maersk Guardian, Semco Maritime is now preparing the final installation just 8 months after the order was placed.
The module, which has been built and outfitted by Semco Maritime and its collaboration partners in Gdynia, Poland, was loaded onto a barge last week to be sailed to Frederikshavn, Denmark. Here the 1,200-tonne module will be lifted and installed on board Maersk Guardian by a floating crane.
According to Vice President Nikolaj Vejlgaard, Semco Martime has never constructed an accommodation block this size before.
"The heavy lifting marks the final and intense part of the project, where the modules are to be installed and hooked-up on the rig. Combined with additional modifications of the rig performed simultaneously with the module construction, the former jack-up rig can now be approved and used as a hotel rig," says Vejlgaard.
The order for the extensive rig work was placed in November with short notice, making Semco Maritime one of a few companies able to handle the job thanks to the company's shipyard-in-a-box concept. The shipyard-in-a-box concept allows Semco Maritime to relocate rig engineers to where the work is within few hours or days, depending on the assignment or geographical location. The concept minimises fixed costs without compromising quality.