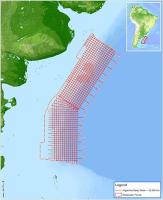 Spectrum has announced the commencement of a 35,000-km Multi-Client 2D seismic survey covering 435,000 km2 offshore the deep waters of Argentina in cooperation with YPF S.A. and the authorisation of the Ministry of Energy and Minerals.
This survey is designed in close cooperation with YPF S.A. and will provide Industry with the first ever detailed seismic grid over this under-explored frontier area of Argentina, allowing for basin-wide studies of the area as well as prospect/lead level interpretation studies for upcoming license rounds.
Data is being acquired with a 12,000 m streamer with continuous recording to enable extended recording lengths and high fold data to enable full interpretation from Moho to water bottom. The data will be processed with PSTM, PSDM and Broadband products with first deliveries in early Q4 2017.
The new data will be utilised to assist the Ministry in placement and design of parcels for the future license rounds offshore Argentina.
Richie Miller, EVP Multi-Client Americas, comments, "With the commencement of our first program in Argentina we again start to build a core area for Spectrum to grow and expand on. There has been no deep water exploration in Argentina and this survey will allow Industry to get a look at a frontier area for the first time with modern long offset high fidelity data. This expansion of the Atlantic Margin seismic coverage, will soon allow Spectrum to offer a modern 2D library from French Guiana through Brazil to the edge of the Malvinas Basin offshore Argentina. With the potential for a billion barrel field discovery offshore, Argentina has the opportunity to join the ranks of the recent Atlantic Margins successes in place such as Guyana, Ghana, Brazil and Angola, to name a few."
This survey will be carried out in partnership with BGP Marine and is supported by Industry funding.