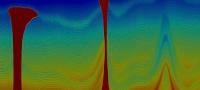 On April 3rd 2017, as part of a continued program of investment in research and development, Spectrum announced the acquisition of the intellectual property of Waveseis LLC, a provider of leading edge seismic imaging algorithms. This enhanced seismic imaging toolkit includes Anisotropic Reverse Time Migration (RTM), Full Waveform Inversion (FWI) and Wave Equation Migration Velocity Analysis (WEMVA) as well as novel tools for image focusing, which will complement Spectrum's existing depth imaging capabilities.
RTM is considered to be an uncompromised migration solution that is essential for depth imaging in complex geological settings, such as salt basins. On the model building side of the workflow, FWI and WEMVA are the present and future of the velocity inversion algorithms that provide highly detailed velocity models that help bridge the resolution gap between seismic and velocity.
Richard Clarke, Chief Geophysicist, adds, "We understand that no velocity model is ever perfect, which is why Waveseis' patent pending Image Focusing approach to RTM, coupled with Spectrum's broadband deghosting technologies, will result in industry leading products for our clients that push the final image bandwidth beyond what is conventionally available."
With the WaveSeis acquisition, Spectrum builds on recent successes in upgrading their Seismic Imaging portfolio, allowing the company to continue to be a world class provider of frontier Multi-Client seismic surveys and high quality seismic imaging solutions.