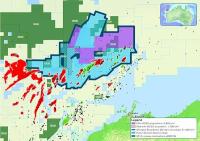 Spectrum has commenced broadband reprocessing of its Zeus and Zeebries 3D datasets as part of an extensive new Broadband 3D seismic project that is set to ignite exploration offshore NW Australia. The Olympus Project will provide, for the very first time, a regional viewpoint along one of the most prolific trends on the NW Shelf. The surveys will be processed through high-end broadband PSTM and PSDM sequences bringing modern imaging uplift to this complex geological region of the North Carnarvon Basin.
In association with Searcher Seismic, Spectrum are applying this technique to an additional 20 open file datasets which adjoin Spectrum's flagship Zeus and Zeebries surveys. The full suite of datasets, known as the 'Olympus Project' will be processed from field tapes and merged to form one conformable regional 3D volume covering over 21,300 km2. This is both an exciting, and technically challenging, project and as such DownUnder GeoSolutions (DUG), has been awarded the contract for this reprocessing.
The Olympus broadband reprocessing 3D project is a unique pre-stack merged dataset which will serve as a framework for extending viable play fairways to the under-explored surrounding areas and facilitate future successful exploration efforts. The project boasts strong industry interest and funding. Full final PSTM products are expected to be available Q2 2017 and PSDM Q3 2017.