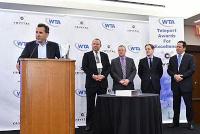 SpeedCast International Limited, provider of highly reliable, fully managed, end-to-end remote communication and IT solutions, has announced it has been named a winner for the World Teleport Association's (WTA) annual Teleport Awards for Excellence.
The WTA presents awards each year to companies and individuals within the satellite communications industry that have demonstrated excellence in the field of teleport operations, development and technology.
"We are honoured to be recognised for the prestigious award of Independent Teleport Operator of the Year," says Pierre-Jean Beylier, CEO, SpeedCast. "Our teleport operations are a critical component of our ability to deliver reliable services to our customers and, with the recent acquisition of Harris CapRock, we've expanded our teleport infrastructure even further."
SpeedCast utilises 20 owned and operated teleports across the globe and has distinguished itself with strong operational expertise and a highly efficient support organisation made up of more than 240 field engineers.
One of SpeedCast's most significant achievements from last year was the partnership with Airbus Defence and Space to construct and manage the first ground anchor station for the Skynet5A satellite in Asia Pacific, located at SpeedCast's teleport facility in Adelaide, Australia. The ground anchor station consists of more than 25 antennas connected to the Skynet constellation of high powered X-band and UHF satellites, as well as commercial Ku-band assets. Additionally, SpeedCast completed the acquisition of Harris CapRock Communications – expanding its global footprint, portfolio of communications and IT services, network infrastructure and field support around the world.