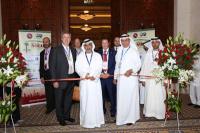 The ninth edition of the SPE/IADC Middle East Drilling Technology Conference and Exhibition took place on 7–9 October in Madinat Jumeirah, Dubai, UAE attracting over 600 attendees from over 185 companies and 35 countries.
Co-organised by two of the most reputed associations of the oil and gas industry, the Society of Petroleum Engineers (SPE) and the International Association of Drilling Contractors (IADC), the event delivered a robust technical conference with an executive plenary session, two panel sessions, 21 technical sessions and various ePoster sessions, all deliberating the conference theme Delivering Future Value Through People, Technology, and Standards.
The event was inaugurated with an Opening Ceremony and included keynote speeches from Mohamed Al-Raeesi, Senior Vice President (Technical), National Drilling Company, Khalid Al-Abdulgader, Conference Co-Chairman and Manager of Manifa Drilling Department, Saudi Aramco, Joseph Ayoub, Technical Director Drilling and Completions, SPE, and Stephen A. Colville, President & CEO, IADC.