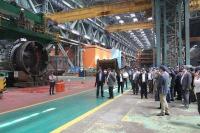 Permanent representatives of Singapore and Malaysia to international organizations in Vienna paid a visit to Rostov region located in the south of Russia as a part of cooperation framework in the area of use of atomic energy in peaceful purposes and for acquaintance with modern Russian technologies for NPP construction and operation.
The event was arranged by invitation of the Russian party as a member-state of International Atomic Energy Agency (IAEA) and a member of the Agency Governing Board.
Ambassador Adnan Bin Othman, Resident Representative of Malaysia, and Mr Bernard Nee, Assistant Chief Executive of Singapore's Energy Market Authority attended the event.