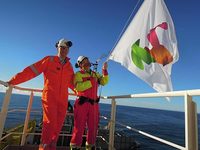 Aker BP ASA has entered into an agreement to acquire Hess Norge AS. Through the transaction, Aker BP strengthens its production and resource base, and becomes the sole owner of the Valhall and Hod fields, where the company sees a great value creation potential through increased oil recovery and flank developments. The company intends to increase shareholder dividends following the transaction.
The cash consideration of the transaction is USD 2.0 billion. The transaction includes Hess Norge's interests in the Valhall (64.05%) and Hod (62.5%) fields. Aker BP will also assume Hess Norge's tax positions, which include a tax loss carry forward with a net nominal after–tax value of USD 1.5 billion, as booked in Hess Norge's 2016 annual accounts. The transaction will be financed through Aker BP's existing long-term Reserve Based Lending bank facility, and by the issuance of USD 500 million in new equity. The issue price will be determined through a book building process. Aker ASA and BP plc will subscribe for 40% and 30% of the shares to be issued, respectively, at the price determined through the bookbuilding process, or minimum NOK 155 per share. In addition, Aker and BP will underwrite the remaining shares to be issued at NOK 155 per share.
This acquisition will strengthen Aker BP's position on the Norwegian Continental Shelf. Both production and reserves will increase significantly. Aker BP's Chairman, Øyvind Eriksen comments, "The acquisition of Hess Norge is another move as a part of our ambition to grow the company. This investment allows Aker BP to raise the dividend level to USD 350 million per year with first uplift planned for fourth quarter of 2017. Through the equity issue, we are enabling Aker BP to grow further on the Norwegian Continental Shelf."
CEO of Aker BP, Karl Johnny Hersvik states in a comment: "Aker BP has a clear ambition to be the leading independent offshore E&P company. This transaction is an important step in that direction. Acquiring this portfolio gives Aker BP a deeper exposure to one of our core areas. Taking full ownership and control allows Aker BP to pursue upsides more aggressively. As the operator of the Valhall/Hod field, Aker BP knows the area very well."
Following the transaction, Aker BP will own 100% of the Valhall and Hod fields. Aker BP will subsequently seek to sell or swap a minority interest in the fields to partners who want to work together with Aker BP to proactively target the upside potential in the area.