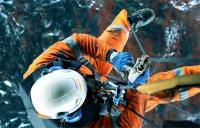 Aker Solutions' maintenance, modifications and operations (MMO) business in Norway secured two contracts for work at North Sea fields operated by ConocoPhillips.
The company received a framework agreement for a fixed period of five years to become ConocoPhillips' main supplier of maintenance and modifications work offshore Norway. The agreement may be extended by up to three years and covers work on all installations at the Ekofisk and Eldfisk fields offshore Norway, starting in February.
The contract value depends on how much maintenance and modifications work is undertaken over the next five years and could range between NOK 1 billion and NOK 3 billion in that period. The range neither represents a minimum nor a maximum amount but serves to illustrate a realistic, yet uncertain range.
Aker Solutions was also one of three companies awarded a contract to compete for work on large, complex modifications projects at these fields. This contract has the same fixed period and option as the framework agreement.
"We're very pleased to secure these two major agreements with ConocoPhillips, which build on the strengths of our operations in Norway and our expertise in complex modifications," said Luis Araujo, chief executive officer of Aker Solutions.