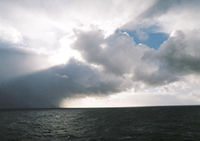 A week-long Easter holiday in Norway has transformed a brash business deal — the 1.9 billion kroner ($290 million) stock sale of five Aker ASA companies to subsidiary Aker Solutions — into politics and a possible boardroom confrontation, although the deal is understood to be legal.
Nearly two weeks after the April 1st business deal was announced, politicians in Norway look set to call a parliamentary enquiry into whether the deep-pocketed Norwegian government was being forced to strengthen the finances of Aker ASA and its controller, Norwegian industrial magnate Kjell Inge Roekke.
"We cannot have insecurity about these kinds of (corporate deals) in companies where the government is an owner, and the government owns many companies," Norwegian Prime Minister Jen Stoltenberg told Norwegian NRK TV's Dagsrevyen.
He said the Aker Solutions board, which he represented on behalf of the Norwegian taxpayer, would now go through Roekke's "various transactions". Roekke has been away on holiday and has yet to comment on the political smoke engulfing the deal with Aker Solutions.
Stoltenberg was on hand when Aker first aired the deal to bolster Aker Solutions with a 100-percent stake in pressure-vessel maker Midsund Bruk, 46 percent of Aker Oilfield Services, 50 percent in Aker DOF Deepwater, 33 percent in Odim and a new 50-50 holding in Aker Clean Carbon, a Norwegian front-runner company in the race to make carbon capture and storage a viable technology.
Political commentators given airtime by the news channel said the Aker-boss had used his corporate structure to build support across the political spectrum and garner government financial support for the promising but untested Clean Carbon. But Aker Solutions leadership was unremittant in its ridicule of politicians, including the normally business-friendly opposition which joined government calls for a full enquiry into how Norwegians were "tricked" into financing Aker's plans.
By early Tuesday, the government — despite its stake in Aker Solutions — appeared at odds with its chief executive, Simen Lieungh, a tough-talking engineer.
Lieungh told newspaper Dagbladet at the weekend that there were no plans to treat the company buy-up at an Aker Solutions general assembly.
"Manaing an industrial company is different than a municipal estate," Lieung was quoted by the paper as saying.
"We are not an estate."
In a darker development, the Norwegian government has hired lawyers who are already saying the stock deal would amount to a loan for which the Aker Solutions board should have been consulted and was not. Not consulting is said to have broken Norwegian corporate law.
Oslo, meanwhile, is understood to be considering filing suit while pushing for an Aker Solutions general assembly of the board and the shareholders it informs.
Aker Solutions is believed to be in meetings to decide whether the company's hundreds of millions of dollars in "liquidity reserves" should finance the five-company deal.
No dates have been set by any of the parties.