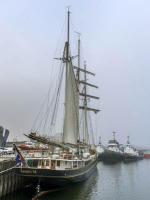 Aquatic Engineering and Construction Ltd, an Acteon company, celebrated its 40-year anniversary of operating in the North Sea with a celebratory event held onboard the grand Gulden Leeuw three-masted tall ship situated at Aberdeen Harbour on April 24, 2014.
Guests competed in a rope pulling competition on the vessel's deck, and a press conference and a discussion outlined Aquatic's place in the evolution of the oil industry over the past 40 years.
Topics included the company's activity in the development of the first UK northern North Sea oilfield, the Argyll. Aquatic was founded by Texan-born Pat Tesson, a pioneer in the development of a powered reel system for spooling steel pipe and flexibles, who established the company in Aberdeen in 1974. In 1975, HM Queen Elizabeth II inaugurated the flow of oil by pushing a gold-plated button in BP's control centre in Aberdeen. Between 1973 and 1974, OPEC vastly increased world oil prices, ensuring production costs in the North Sea were viable, and the industry in this region is considered a major industrial achievement of the 20th century.
The challenges inherent in operating in the North Sea continue to drive industry innovations in offshore engineering capabilities. An example is the unique, world-class solution added to the Aquatic inventory, the 1500te modular carousel (AQCS-01) designed in Scotland and mobilised for a Kreuz Subsea project in Singapore.
Following the presentation, senior Aquatic representatives Chris Brooks, group president; David Tibbetts, VP technology; Jenny Bamford, VP commercial; and Colin Barry, VP finance, highlighted future growth opportunities for subsea services locally and in new and emerging markets.