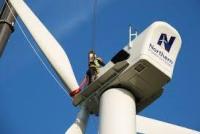 Northern Power Systems, and BTI Energy are partnering to install multiple wind turbines across the U.S. Northern Power's NPS 100-24 turbine features a newly optimized rotor configuration which allows for higher annual energy production and gives BTI Energy the ability to install quality wind turbines for customers at sites with lower wind speeds and historically lower electricity rates.
BTI Energy only works with the industry's elite manufacturers ensuring that customers have the best-in-class technologies for their projects. They have successfully installed over 170 wind projects throughout North America. BTI Energy is committed to the success of each project. From installation to ongoing support, they provide licensed, trained, and certified professionals who are timely and efficient.
"I have long held Northern Power Systems' 100kW wind turbine in high regard as the most reliable and easy to maintain wind turbine in the smaller distributed wind market. Because of the high annual energy production, we consider the NPS 100-24 to be the most cost effective turbine in this market," said Andrew Trapanese, VP Operations for BTI Energy.