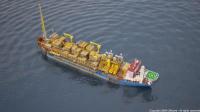 Cathelco are supplying ICCP hull corrosion protection systems for two FPSOs which are being constructed through conversion by SBM Offshore to provide production and storage facilities in the Lula field off the Brazilian coast for a consortium headed by Petrobras.
The FPSOs Cidade de Maricá and Cidade de Saquarema will be converted from two double hulled 308,491 dwt VLCCs, which will be modified and upgraded at the Chengxi Shipyard in Guangzhou, China. Delivery of the vessels is planned for the end of 2015 and early 2016, respectively.
Cathelco will supply impressed current cathodic protection (ICCP) systems for both vessels to safeguard the hulls against corrosion throughout their operational life.
Each vessel will have 600amp forward and aft systems consisting of an arrangement of hull mounted anodes and reference electrodes which are connected to a control panel. In operation, the anodes emit a current which flows over the surface of the hull and neutralises corrosive activity.
The reference electrodes constantly measure the electrical potential at the hull/seawater interface and send a signal to the control panel which raises or lowers the electrical output. In this way, the optimum level of corrosion protection is achieved at all times.
The installations will use the latest Cathelco C-Max linear anodes which are diver changeable, an essential feature for FPSOs which are operational for 15 to 20 years, remaining on station for prolonged periods of time.
With linear anodes, current is emitted from one or more tubular elements, depending on output, which are made from titanium with a mixed metal oxide coating. The elements are mounted on an integral backing shield made from strong, but lightweight ABS plastic which helps to distribute the current over the widest hull area. This works in conjunction with the di-electric shield, a sprayable epoxy coating which surrounds the anode.
"Working with SBM Offshore, Cathelco supplied an ICCP system for the FPSO Cidade de Paraty, the first of the company's Generation 3 FPSOs to start production in the pre-salt basin off Brazil. More recently, a system has been provided for the Cidade de lIhabela, a vessel which is similar in design to the two latest FPSOs", said Andrew Gamble, large projects manager at Cathelco.