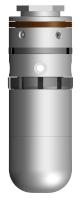 Churchill Drilling Tools, the Aberdeen-based producer of patented down-hole tools, has announced the successful deployment of its Mechanical Extrusion (MX™) and SMART DART™ systems in drill-string pressure testing.
Churchill has developed a unique solution to improve the cycling and control of a wide range of down-hole devices in varying applications. The MX™ system allows the use of rigid SMART DARTS™ for multi-cycle control and exploits their robustness and resilience to High Pressure High Temperature (HPHT) environments to deliver greater speed, reliability and performance than with conventional ball activation.
The company's PTS MX™ system uses SMART DARTS™ to perform pressure testing with increased performance and flexibility.