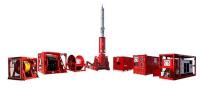 Conductor Installation Services Ltd (CIS), an Acteon company, has launched a new service line: Subsea Piling Services.
The announcement coincides with the introduction of the new CIS Subsea Piling System, a remotely-operated system that the company developed to drive piles as large as 36-inches in diameter, in water depths to 300 metres.
Self-tensioning winches enhance safety & control "What sets the new Subsea Piling System apart is that it features self-tensioning hydraulic winches that lower and raise the hydraulic hoses and electrical cables that connect to the hammer," said Andy Penman, Group Managing Director of the CIS Group. "While other systems rely upon technicians to carry out this critical action by manually operating the winches, the constant-tensioning capability of the new subsea piling system's winches means that they automatically heave and lower according to sea conditions. In essence, we have removed the guesswork and risk of human error, making the process more efficient, reliable, and much, much safer."
Greater accuracy = improved efficiency = reduced costs
Driving piles with the innovative technology offered by the Subsea Piling System has been streamlined, making it very straightforward. The entire process is carried out by an experienced pile-driving engineer from a control unit and monitoring system located on-board a vessel or barge. A hydraulic hammer, which is connected via an electronic umbilical cable to the control system, is lowered into the water and placed directly over a subsea pile. Once it is accurately positioned, the pile is driven into the seabed by the hammer until it reaches its target depth. The operation is continuously monitored and controlled by an engineer in the dedicated CIS control cabin.
"The CIS remotely-operated piling method offers complete control so that the level of accuracy achieved by every blow of the hammer is much greater," said James Chadd, Technical Sales Manager for the CIS Group. "The more accurate it is, the less time it takes to drive the pile. Put simply, it's faster, much more efficient and costs less."