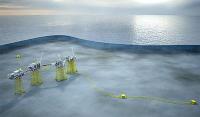 Statoil reports that apprentice Jens Erik Eriksen in Kværner and Norway's minister of petroleum and energy Tord Lien marked the construction start on the Johan Sverdrup utility and living quarters platform on the island of Stord, north of Stavanger on Thursday, 31 March.
"Johan Sverdrup is the biggest industrial project in modern times in Norway, and will create considerable value for society for generations to come. Today we are kicking off the construction of the utility and living quarters platform, which is the second of four platform currently under construction in the first project phase," says Kjetel Digre, Statoil's project director for Johan Sverdrup.
Statoil awarded a joint venture between Kværner and KBR the contract for engineering and construction of the topside for the utility and living quarters platform for the Johan Sverdrup field in June 2015.
Stord is central in a comprehensive Johan Sverdrup project. Kværner Stord will fabricate parts of the topside steel frame, and will also assemble all parts for the utility and living quarters platform before the platform is installed on the field in 2019. At peak around 2,000 Kværner employees will be involved in Johan Sverdrup deliveries.
Kværner's sub-supplier Apply Leirvik on Stord will construct the accommodation module for the living quarters platform, which will be the biggest on the Norwegian continental shelf (NCS).
The other modules for the utility and living quarters platform will be constructed at the Energomontaz Polnoc Gdynia (EPG), Mostostal Pomorze Gdansk (MPG), Mostostal Chojnice and Crist Offshore in Poland, as well as in Gothenburg, Sweden. Detailed engineering is performed at KBR's office in Leatherhead, London, and at Apply Leirvik on Stord. The fabrication work was also kicked off today at two of the yards in Poland and at Apply Leirvik's yard.
The platform will be completed in the first quarter of 2019, before it is installed on the Johan Sverdrup field by use of the world's largest heavy-lift vessel, the Pioneering Spirit.