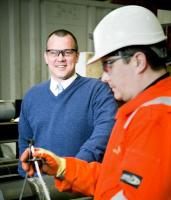 Coretrax is launching its award-winning CX-IST (Inflation Support Tool) to the oil and gas market at ADIPEC, following a $3 million development investment.
The company will unveil its ground-breaking cement placement technology during ADIPEC, which is one of the top three oil and gas events in the world. The product significantly reduces rig time, offering substantial cost savings.
The CX-IST provides operators with a critical solution to the challenges of traditional cement placement. It gives a positive indication that the cement will be set in the correct place before latching at the bottom of the work string using a pre-installed landing sub. Once secure, pump pressure inflates the elastomer to seal the wellbore. The IST is then released by simply picking up the work string.
The tool creates a 100% wall-to-wall base for well fluid or cement. The operator can deploy as many ISTs as needed in the same or multiple zones without tripping drill pipe in and out of the hole providing significant operator time and cost reductions.
Kenny Murray, managing director at Coretrax, said: "This is a monumental success for Coretrax and a game changer for the entire industry. The team is passionate about the business and has worked tirelessly for three years, from initial stages, to produce an innovative product, which will benefit the oil and gas sector."