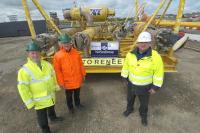 NorSea Group (UK) Limited has won North-east Scotland's first major "small piece" decommissioning contract. Work has already begun on the six-month project which is being carried out at NorSea Group's Peterhead facility on behalf of Endeavour Energy and involves safe disposal of subsea manifolds and associated pipework from the Renee and Rubie fields.
All materials from the fields, which lie 200km North-east of Aberdeen, are being delivered to Smith Quay which is operated by NorSea Group. An important element of the £0.5million contract was the requirement that reuse of returned material be maximised and NorSea Group will achieve a 100% recycling rate.
The returned material includes 1,000 tonnes of concrete mattresses which will be used as hard core and in road construction projects; 200tonnes of pipework and skid units which will be recycled as scrap metal; manifold valves which will be refurbished and reused and a 17 tonne crossover manifold which will be transported to the Underwater Centre at Fort William where it will be used for diver training.
The work will initially create up to six new jobs.
"This is our first decommissioning win and the first such project to be carried out in the North-east," said Walter Robertson, MD of NorSea Group (UK). "We are primarily known as a logistics and base services company servicing the offshore industry but as part of our future growth strategy we are developing our decommissioning capability. In the current economic climate we anticipate that many more decommissioning projects will be coming forward and we are already involved in tendering for additional contracts in this area.
"In addition to Peterhead we have facilities at South Quay, Montrose capable of carrying out similar types of small piece decommissioning work, so we see great potential for servicing additional contracts there."