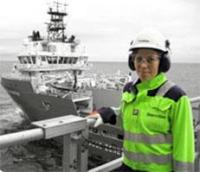 DNV GL increases ownership stake in StormGeo, a global provider of weather-based decision support services.
Private equity group Reiten and TV2 have sold majority shares to EQT Mid Market. As part of the transaction EQT will enter into a partnership with DNV GL (second largest shareholder) and StormGeo management and employee shareholders, who will remain significant minority shareholders.
"In connection with the transaction, DNV GL has increased its ownership stake from 24% to 27%," says Bjørn K. Haugland, DNV GL Chief Sustainability Officer and board member in StormGeo. "The strategy is to support StormGeo's continued growth and focus further on the offshore oil & gas, maritime and the renewable industries as well as investments in next generation products and services. We look forward to driving the company forward together with EQT and the other stakeholders."
"We are honored to welcome EQT as new majority shareholder of StormGeo and at the same time expand our current strategic partnership with DNV GL. StormGeo provides its services to very capital intensive industries across the globe, and EQT's strong track record and longstanding experience in taking mid-sized companies to the next level will help us meet future customer demand. The offshore oil&gas and maritime industries are at the cusp of a technological transformation driven by easier access to bandwidth and big data. With our current risk avoidance systems and focus on efficiency, we are very well positioned to benefit from an increased focus on reducing fuel consumption and emission levels and improving onboard safety," says Erik Langaker, Chairman of StormGeo.