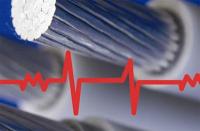 DNV GL (formerly KEMA), the world's largest resource of independent energy experts and certification body, Dutch distribution system operators Liander and Enexis, and substation automation provider Locamation have developed a 24 hour online monitoring system for underground cable networks, with full-scale roll out of the system due to start this year.
DNV GL will manage and monitor the Smart Cable Guard system, which is capable of detecting approximately 65% of the weak spots and more than 95% of the failures in the underground medium voltage network (6-50 kV). Liander and Enexis anticipate that both the number of failures and the time to repair these will decrease. The two companies also expect that the costs of repairing failures will fall considerably thanks to fast and accurate pinpointing of the failure location.
The Netherlands has some 110,000 km of medium voltage cable buried underground, some of which was installed as long ago as the early 1900s. Smart Cable Guard was developed due to increasing importance of monitoring network conditions in order to guarantee energy supply.
The system consists of a sensor and a computer that is linked to the underground cable network. The sensor collects data on the cables' conditions 24 hours a day and transmits it straight to DNV GL, where it is collated and analysed. Liander and Enexis can use this information to resolve weak spots in order to reduce the number of power failures up to 25%.