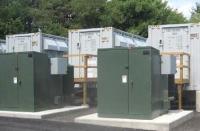 DNV GL declared the GRIDSTOR Recommended Practice (DNVGL-RP-0043). This independent set of recommendations combines all key standards and guidelines with credible industry experience and insights, to help guarantee the safe implementation and operation of energy storage systems for all stakeholders such as end users, manufacturers, investors or insurance companies.
The Recommended Practice is published eight months after DNV GL launched its GRIDSTOR Joint Industry Project, a global consortium for the energy storage sector working together to create a Recommended Practice. The Joint Industry Project has been pivotal in defining grid-connected energy storage and quality considerations that can successfully impact deployment.
As a technical expert with extensive experience in the renewable energy market, DNV GL was the catalyst in bringing international industry stakeholders together to speed up the process of developing a Recommended Practice. The Recommended Practice has been developed in cooperation with seven other parties consisting of technology producers, grid service providers, energy consultants and universities. Because of this, and by incorporating the insight, knowledge and authority of an additional 36 major industry players participating in the review process, the document answers the real quality needs of all stakeholders of grid-connected energy storage systems.