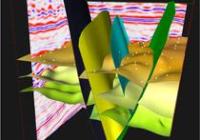 Emerson Process Management has released Roxar RMS 2013, the latest version of its reservoir modeling software. RMS 2013 now comes with model driven interpretation capabilities and new, innovative solutions for seismic interpretation that are tightly linked to geological model building and provide users with a full seismic to simulation workflow.
RMS 2013's model driven interpretation enables users to not only create the geological model while conducting seismic interpretation, but also capture uncertainty during the interpretation. This ability to provide users with unique tools for quantifying geologic risk early in the interpretation process will lead to better decision-making and improved investment returns.
"As the industry moves into more complex geological settings and more economically marginal prospects, the improved quantifying of geologic risk and the ability to make decisions faster based on the available data - no matter the quantity or quality - has never been more important," said Kjetil Fagervik, managing director of Emerson's Roxar Software Solutions.