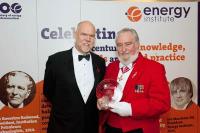 A new award has been created to honour Aberdeen-headquartered oil and gas asset specification, hotelkeeping and catering company Trinity International Services' support for the Energy Institute.
The leading independent contractor was presented with the Award of Counsel in recognition of its outstanding commitment to the energy sector, including a 25-year association with one of the most important dates in the Energy Institute's annual calendar of events.
Trinity International Services has provided the administration of the Aberdeen, Highlands and Islands Branch of the Energy Institute's annual dinner since 1999, with chairman Stuart MacBride having carried out the role of toastmaster since 1989.
The award came as Trinity retired from its role at the event alongside event committee chairman and long term committee member and past Branch Chairman Alan Higgins. The 2015 dinner was brought forward to November 2014, being held at the Marcliffe at Pitfodels for a final time before the famous venue is converted into a residential property development.
The event has witnessed major announcements from Government, including Chief Secretary to the Treasury, Danny Alexander's comments on reduced forecourt fuel prices; to speeches from key industry figures – former BP chairman Tony Hayward made his first public address at the event, after resigning his post following the Macondo disaster in the Gulf of Mexico.
Capt MacBride, chairman of Trinity International Services, said: "It is a wonderful honour to have received this award, as we mark the end of our long running and successful relationship as organisers of the Energy Institute's energy dinner. Special mention must be made of the superb job that Sarah Pettigrew has done in pulling the administration together.
"The dinner has become a key date in terms of major announcements from Government, and key speeches from the industry – it is rightly seen as one of the most significant gala events for the industry in north-east Scotland.
"It has been an absolute pleasure organising and facilitating this acclaimed event over the years and I have no doubt that it will continue to be the biggest and best of its kind under a new team and at a new venue, from 2016."