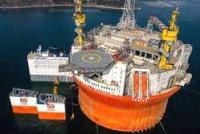 ALMACO's scope of supply includes the supply and installation of Cold Stores and Refrigeration Machinery, as well as Commissioning and Spare Parts. Hyundai Heavy Industries awarded the contract to ALMACO Group in July of 2011 and ALMACO finalized the commissioning work at the end of 2014. Vincent Querard, ALMACO's Project Manager, states "ALMACO's global experience in the offshore accommodations and in food handling solutions allows for on-time deliveries at any shipyard around the world. With a strong presence in Asia, ALMACO is well suited to provide cost-efficient and top quality solutions to owners and shipyards in the region and worldwide."
Eni Norge AS, who has 65% of the license for the Goliat offshore oil field located in the Barents Sea in Northern Norway, and Statoil, who holds the remainder, selected the Sevan 1000 FPSO concept based on a cylindrical design for the Goliat development project, which is capable of handling the harsh climate demands in Norway's Arctic region.
The Goliat Unit is being transported from South Korea to Northern Norway As Goliat is not a sailing unit, it will be loaded on a dedicated semi-submersible heavy transport vessel (SSHTV) built by Hyundai Heavy Industries (HHI) in Ulsan, South Korea, for the Dutch shipping company Dockwise.