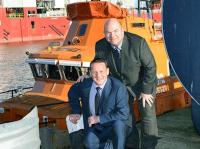 Europe's first and only oil and gas event focussing solely on topsides installations is set to take place at the Aberdeen Exhibition and Conference Centre (AECC) on 16th and 17th March 2016.
Topsides UK will tackle some of the challenges facing the industry by shining a spotlight on the supply chain community to present opportunities for unlocking value from ageing topsides infrastructure in the North Sea.
With an integrated conference arena and over 1,000m2 of exhibition space, Topsides UK will give attendees a powerful opportunity to debate and interact directly on industry hot topics such as production enhancement, cost efficiencies, education and career progression.
Gavin Esslemont, Director of Aberdeen based event organiser Xcite Media and commercial consultancy Xcite Oil and Gas, comments:
"We are continually made aware of the significant challenges facing the energy sector and particularly operators as they seek to recover remaining hydrocarbons with existing ageing assets. These challenges have resulted in ever-increasing costs over the last number of years meaning a less attractive proposition to potential investors. The supply chain supporting the industry are key to unlocking value by creating innovations that lead to enhanced production and cost efficiencies.
"Here in Aberdeen, we have a fantastic opportunity to bring everyone together to interact directly to discover and establish realistic opportunities for smarter working to the benefit of our economy – both in Aberdeen and further afield."
Topsides UK, which is already confirmed for 2017 and 2018 at the AECC, has attracted early positive endorsements from across the industry. Ross Lowdon, Chairman of the Aberdeen brand of Society of Petroleum Engineers (SPE), comments:
"The SPE are delighted to be involved in a conference and exhibition promoting collaboration in the UKCS. The prevailing economic conditions dictate some grim scenarios if we continue along the same cost base and fail to both collaborate and innovate our way to efficient oil recovery in the near future. Brownfield sites are unfortunately at the core of the UKCS, with ageing infrastructure, increasing capital and operational demands and a declining oil price all focusing minds on how to maximise recovery rates in an economic manner going forward. Topsides UK will enable debate and showcase some of the technology need to make this happen."