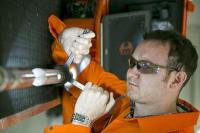 Downhole video technology specialist EV has recorded significant international growth by opening a new base in Australia.
EV, a market leader in downhole video applications for the oil and gas industry, has seen rapid international expansion over recent years. The company's new Australian base, located in Perth, has been established to aid local operations as well as provide a regional presence for projects in the area.
Features of the new facility include a custom-built storage area for EV equipment, an electronics maintenance area, lithium battery storage area, System Integration Testing (SIT) area and designated meeting areas.
Bradley Parker, EV Australasia manager said "We have experienced an exceptionally high demand for our downhole video technology in Australia and surrounding areas in recent months following successful contracts with global operators in Australia, Papa New Guinea and New Zealand.
"Through our on-the-ground presence in the region, we will continue to deliver a high quality service as part of our regional projects including optimisation techniques, well integrity and scale build-up, pre-inspections for well abandonment and fishing routine programmes. The investment into the new facility allows us to present EV clients with real-time, cost effective, quality images, using up-to-date problem identification methods with short lead times, resulting in an effective end result for the operator."
The Australian office currently has three employees. EV is constantly developing its product range to meet client requirements, as well as Slickline and Electric Line cameras, the company plans to introduce a drillpipe camera in the upcoming months.