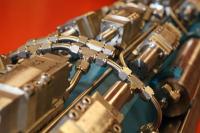 Expro has secured a new framework agreement with Statoil Petroleum AS in the Norwegian Continental Shelf (NCS).
The agreement, for three years with options to extend for three, two-year periods will see Expro provide subsea services and well control systems delivering its large bore landing string assemblies for completion, workover and intervention projects from both semi-submersibles and jack-up rigs.
Neil Sims, Vice President - Europe CIS (Commonwealth of Independent States) said, "This agreement reaffirms the long-standing relationship between Expro and Statoil, established through the provision of well testing and clean-up services over the last 8+ years. We are proud to now be providing subsea landing strings and supporting services for Statoil's key projects in the NCS."
"Expro are well positioned to support Statoil in Norway with recent investments in a new base and technology – including our $10m facility in Tananger," Neil added.