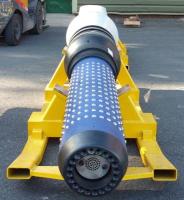 Deepwater mooring company, First Subsea Ltd, has completed the installation of subsea mooring connectors for Anadarko Petroleum Corp's Heidelberg truss spar platform moored in 5,310ft (1,620 m) of water in field development in the Gulf of Mexico.
The 23,000-ton spar has been moored by nine Series III Ballgrab ball and taper mooring connectors attached to polyester mooring lines. The connector's male mandrels are manufactured in compliance with American Bureau of Shipping (ABS) 2009 Approval for specialist subsea mooring connectors.
Ball and taper subsea mooring connectors (SMCs) offer a two-part mooring. A connector receptacle is preinstalled, attached by ground chain to a mooring pile. When the spar arrives on-station the ball and taper mooring connector is simply attached to the mooring line and lowered into the receptacle to complete the mooring line connection.
"Spar mooring is something of a specialty for Ballgrad SMCs," says John Shaw, managing director, First Subsea. "The connectors offer a quick mooring line installation with significant time savings for the overall mooring installation."
The Heidelberg spar will have a capacity of more than 80,000 barrels of oil and 2.3 million cubic meters of natural gas per day.