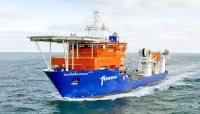 Fugro has been awarded a contract by BHP Billiton Petroleum Pty Ltd for the Pyrenees Phase 3 Installation Project.
The Pyrenees development is located offshore Western Australia, in approximately 200 metres water depth, 45 kilometres northwest of Exmouth, and comprises six separate fields: Stickle, Crosby, Tanglehead, Moondyne, Wild Bull and Ravensworth. The project includes the tie back of the Stickle 9 well to the existing Tanglehead manifold.
Fugro's scope of work includes suspension of existing infrastructure, and installation and pre-commissioning of the new flexibles and flying leads. ROV intervention and well commissioning support will be provided and the scope also includes the supply and fabrication of crossings, stabilisation and installation aids, along with mobilisation and transportation of equipment to the field.
Commencing in May 2016, all offshore activities will take place from Fugro's modern, multi-role construction vessel, the Southern Ocean. The fuel efficient, DP2 vessel is fitted with the required installation spreads to complete the subsea workscope.
All project management, engineering and associated support functions will also be provided by Fugro.