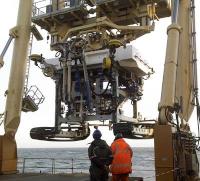 Aberdeen-based Fugro Subsea Services Limited (FSSL) has successfully completed the trenching and burial of inter-array cables for CT Offshore at the Gwyn t Môr wind farm in the Irish Sea off the North Wales coast. The 160 turbine Gwyn t Môr is currently the largest offshore wind farm under construction in Europe.
Central to the success of the cabling operation was Fugro's custom-built Q1400 Trenching System which can perform both jet trenching and mechanical chain cutting of soils. In total 37 cables were trenched into very hard seabed with a mixture of soils and hard clays interspersed with boulders and cobbles, gravels and sand. Despite these demanding conditions the Q1400 was successful in burying all the cables.
"The Q1400 has the manoeuvrability and compact size to be able to trench right up to the cable j-tube, or in this case the cable protection system, which minimised the need for rock dumping or matressing, potentially saving on cost," said Mike Daniel, Trenching Business Line Manager at FSSL.
Gwyn t Môr is the second wind farm project where the Q1400 trenching system has been used when soils have been beyond the capabilities of standard jet trenching systems, and this follows on from a busy 2013 with completion of four successful Oil and Gas trenching projects one off the West Coast of Ireland and three in the North Sea.