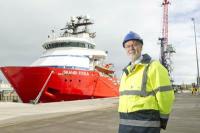 Fugro EMU, with support from the Waterman Group, has been appointed to undertake a full Environmental Impact Assessment (EIA) and prepare an Environmental Statement (ES) in relation to the expansion of Aberdeen Harbour.
This potential expansion will involve the construction of a new facility in Nigg Bay to the south of the existing harbour. Fugro EMU is providing overall project management and coordination of the EIA and ES with the support of the Waterman Group, who are managing and co-ordinating the terrestrial elements of the EIA.
Aberdeen Harbour has links with over 39 countries worldwide, it is a vital support to Scotland's oil and gas sector and is the main commercial port supporting the North East of Scotland.
Working in close partnership, both Fugro EMU and the Waterman Group are well placed to support their client throughout the project with in-house project management, consenting, technical and survey capabilities, as well as a clear understanding of the requirements of supporting technical studies.
Fugro EMU's Managing Director, Bruce Tomlinson, commented on the achievement, "Fugro is extremely pleased to be a part of this prestigious project and to be assisting in the development of a nationally important facility. Our involvement provides an excellent opportunity to work in collaboration with the Waterman Group, to collectively provide comprehensive expert support both onshore and offshore to this internationally significant development plan. As we extend our environmental capability to global markets there is no better place to start than by supporting the development of a harbour at the home of the UK oil and gas market."