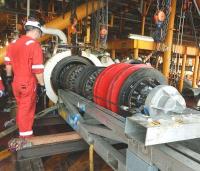 Responsible for providing Thailand with 20 percent of its annual natural gas supply, PTT Exploration and Production Public Company Limited (PTTEP) works hard to make certain that natural gas production from the Bongkot and Erawan Production Platforms, located in the Gulf of Thailand, flow with little disruption. PTTEP is vigilant for safety and efficiency, continually inspecting its pipeline network to ensure that repairs are made in a timely manner. PTTEP's challenge is to repair its lines quickly and safely, with minimal disruption to production.
Since replacing valves is a routine function in pipeline maintenance, the PTTEP team responded rapidly when it identified three topside valves in need of replacement on the gas export riser attached to the Bongkot platform. The Bongkot platform is connected to a major export line that extends to the Erawan production platform, a primary hub of gas production in Thailand, through which millions of cubic feet of natural gas are transported daily to the onshore processing plant in Rayong, Thailand.
To ensure efficient replacement of the valves, PTTEP partnered with global pipeline service provider T.D. Williamson (TDW) to isolate pressure in the pipeline from the work zone and depressurize the affected section. By doing so, a safe working environment would be created in which the pipeline repair contractor could replace the defective valves. PTTEP had opted for the isolation method to prepare for repair work so as to avoid the downtime, expense and disruption of bleeding the entire line. The objective was to keep interruption to gas production to a minimum: no more than 10 days.
Following months of pre-engineering work and preparation carried out in close cooperation with the PTTEP project team, the TDW team deployed a triple module 32-inch SmartPlug® pressure isolation tool. The triple module configuration features two modules for isolating the pipeline inventory during the valve replacement works, and a third plug module to act as barrier for post-repair hydrostatic testing.