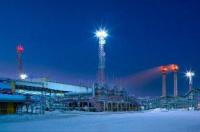 Alexey Miller, Chairman of the Gazprom Management Committee and Harald Schwager, Member of the Board of Executive Directors of BASF, Chairman of the Supervisory Board of Wintershall Holding signed at the Gazprom headquarters a Master Agreement to swap assets between Gazprom and Wintershall Holding (Wintershall).
As a result of the deal, Gazprom will increase its stakes in European gas trading and storage companies WINGAS, WIEH and WIEE to 100 per cent as well as receive a 50 per cent stake in WINZ involved in hydrocarbon exploration and production in the North Sea.
In its turn, Wintershall will obtain a 25.01 per cent share in the project for developing blocks 4A and 5A in the Achimov deposits of the Urengoyskoye oil, gas and condensate field.
On December 4, 2013 the asset swap deal was approved by the European Commission.
"The demand for Russian natural gas is steadily growing in Europe. An increase of Gazprom's presence in the wholesale market as well as a potential outreach to retail consumers considerably strengthen our positions not only in Germany but in other European countries, too.
The deal with our German partners also gives us access to promising offshore projects in the North Sea. It is an excellent opportunity for the Company's growth," said Alexey Miller.
"The asset swap will allow us to focus on profitable growth at the source in our targeted oil and gas-rich regions," said Kurt Bock and added, "Through the joint development of additional blocks in the attractive Achimov formation, we will further expand our production of natural gas and condensate with our partner Gazprom."