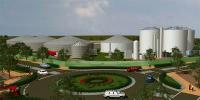 At today's groundbreaking ceremony, RWE Innogy and the State Secretary of the North Rhine-Westphalian Ministry of the Environment, Peter Knitsch, officially kicked off the construction phase of a modern biogas plant. The ceremony was also attended by representatives of the Rhein-Erft district, the city of Bergheim and the regional agricultural industry. After its completion in spring of 2014, the plant located in Bergheim-Paffendorf will have an capacity of 7.4 MW and inject some 700 cbm of biogas per hour into the public grid. The investment volume will total some € 13 million.
Dr Hans Bünting, CEO of RWE Innogy GmbH: "Today, we are sowing an important seed for the energy supply of the future and officially starting the construction of our state-of-the-art biogas plant. The novel plant concept involves the use of alternative energy crops. At the same time, we are relying on trusted partnerships with the regional agricultural industry. Energy from the region for the region is our credo".
The raw biogas generated is treated in the plant to upgrade it to natural gas quality and can be injected into the natural gas grid. This makes it available for regional combined heat-and-power plants. The biomethane can be used to supply heat to the equivalent of some 3,300 households annually.