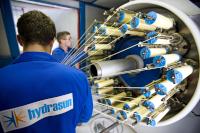 Aberdeen-headquartered Hydrasun named Great Large Company at the Offshore Achievement Awards (OAA) ceremony held at the Aberdeen Exhibition and Conference Centre (AECC).
Hydrasun was awarded the coveted "Great Large Company Award", which recognises excellence in large company performance in the offshore energy sector.
Bob Drummond, Chief Executive of Hydrasun, said: "We are very honoured to have been chosen for such a prestigious award, especially in recognition of the world class calibre of the other nominations. Winning it is a fantastic achievement and clear recognition of everyone at Hydrasun's hard work and dedication, and of the strong growth, development and overall performance of the company in recent years.
"Beyond recent developments in continuing to grow our global footprint, we have also further invested in our integrated product and service offering to deliver enhanced levels of service and added value for our customers. Most recently, this focus has also seen a £3million investment in the expansion of our own specialist manufacturing facilities to increase our capabilities, capacity, flexibility and overall speed of response to customer needs."