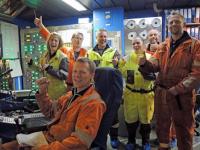 Statoil reports that at 00:00 on Tuesday 1 March the Deepsea Atlantic drilling rig started the first of a total of 35 wells to be drilled in the first phase of the Johan Sverdrup field development.
"The Deepsea Atlantic drilling rig is currently predrilling the first production well for the first phase of the Johan Sverdrup development. This is a central operation in a complex Johan Sverdrup puzzle. Predrilling allows the production capacity on the field to be utilised as efficiently as possible when Johan Sverdrup has come on stream late in 2019. This way, we maximise value from the field from day one," says Kjetel Digre, senior vice president for the Johan Sverdrup project.
The rig is drilling the first production well through a predrilling template that was installed on the field in the summer of 2015. A total of eight wells will be drilled through the predrilling template, before the rig is relocating to drill injection wells on three locations on the field.
In 2018, the permanent Johan Sverdrup drilling platform will be installed as the second of four platforms. The drilling platform is currently being constructed at Aibel's yard in Haugesund, north of Stavanger, and in Thailand. When the drilling platform is installed and operational, the eight predrilled wells will be hooked up from the predrilling template. At this point Deepsea Atlantic will be drilling the injection wells providing reservoir pressure support to maintain high field production.
The operator Statoil, the rig owner Odfjell Drilling and the drilling service provider Baker Hughes have cooperated closely to ensure safe and cost-effective deliveries. The Johan Sverdrup project introduces integrated drilling services as a new concept, which means that Baker Hughes will provide the main deliveries together with Odfjell Drilling. 
"Statoil and the drilling service providers have worked as an integrated team in planning the drilling operation. Deepsea Atlantic is a good rig and everything is set for a safe and cost-effective drilling operation on Johan Sverdrup. This is vital to ensure production start from the field at the end of 2019," says Digre.