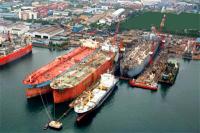 Keppel FELS Limited (Keppel FELS), a subsidiary of Keppel Offshore & Marine Ltd (Keppel O&M), has secured a contract from UMW Drilling 8 (L) Ltd, a wholly-owned subsidiary of UMW Oil & Gas Corporation Sdn. Bhd. (UMW Oil & Gas), for a KFELS B Class jackup rig worth US$218 million.
It will be the third KFELS B Class jackup rig for UMW Oil & Gas and is scheduled for delivery in 3Q 2015. The first jackup - UMW NAGA 4 - was delivered in February 2013 and the second - UMW NAGA 5 - is expected to be completed by 2Q 2014.
Mr Rohaizad Darus, President, UMW Oil & Gas said, "The KFELS B Class rigs are efficient drilling platforms with industry-leading features and have been well-received by the market. Our first jackup constructed by Keppel FELS, UMW NAGA 4, is currently deployed in offshore Malaysia while our second rig, UMW NAGA 5, is expected to be delivered in May this year and has already secured a charter from Nido Petroleum Philippines.
"We have taken this opportunity to acquire another KFELS B Class jackup from Keppel FELS to enable UMW Oil & Gas to accelerate the growth of our assets portfolio and meet the strong demand for premium jackup drilling rigs in the Asia Pacific region. Keppel FELS has been a good partner for us in delivering high quality rigs on time and without incidents. Teaming up with the world's leading rig builder is a boost to our aim of being Malaysia's premier drilling contractor."