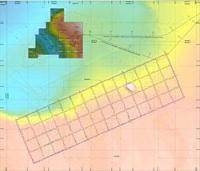 Kongsberg Oil & Gas Technologies (KONGSBERG) has been awarded a contract by Saipem for delivery of subsea structures for the gas export pipeline project of the INPEX-operated Ichthys LNG Project.
The Ichthys Field is located about 220 km offshore Western Australia and 820 km southwest of Darwin. The subsea pipeline is 882 km long and continues 7 km onshore to the liquefaction facilities being constructed at Bladin Point near Darwin.
The scope of work involves Adjustable Pipe Support structures (APS) to the pipeline. The APS's will support the pipeline and bring it to the required height and orientation at the end termination. KONGSBERG will do Engineering, Procurement and Construction and delivery while Saipem will do the installation. The construction is being undertaken in Henderson, Western Australia.
The design commenced in January 2015 and the APS will be tested and ready for installation by the end of July 2015.
"We are delighted to win this contract," Pål Helsing, President of Kongsberg Oil & Gas, says. "We are really looking forward to work with Saipem on this project. The contract is important for us in the Australian market and it shows that our solutions fit very well into the conditions and challenges offshore Australia."