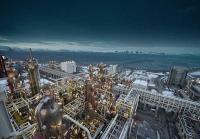 Kongsberg Oil & Gas Technologies, a wholly owned subsidiary of Kongsberg Gruppen ASA (KONGSBERG), has signed a frame agreement with Statoil Petroleum ASA for services related to Statoil's dynamic process simulators.
The frame agreement includes that KONGSBERG will maintain, modify and upgrade (OMMU) Statoil's existing dynamic process simulators, and is valid for up to 12 years including all installations in Norway and abroad.
Dynamic process simulators are useful in all phases of the life cycle in an oil and gas field. By utilising its power, a process simulator can predict more cost efficient field development, during operations and processes, and ultimately decommissioning. By analysing both behaviour and processes, and using it for operator training, it can help increase cost efficiency and minimise HSE risk.
KONGSBERG has delivered and maintained dynamic process simulators to 27 of Statoil's installations since 1988.
"We are very satisfied with this frame agreement," says Egil Haugsdal, President of Kongsberg Oil & Gas Technologies. "Statoil is the key operator on the Norwegian Continental Shelf and is also an important player in the international industry. Being chosen by Statoil is a signal that we have added value to their operations during the years since the first delivery, and it also indicates that we have solutions the industry needs in times more cost focused than ever," adds Haugsdal.