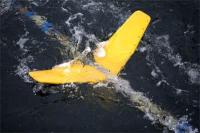 Kongsberg Seatex has now given users of the sophisticated eBird® Seismic Streamer Control System the ability to equip SmartWing® instrumentation with two additional features – a compass and a GNSS receiver. eBird is a novel bird concept for lateral, vertical and roll streamer control in marine seismic acquisition that enables fault tolerant and efficient multi streamer steering by employing a wide range of innovative and patented technological solutions.
The innovative approach of placing a GNSS receiver in the wings opens new opportunities for improving the efficiency of an operation – in particular during launch and recovery but also when running lines.
The built-in GNSS receiver has been implemented based on Kongsberg Seatex' extensive competence within GNSS technology. Transmission of satellite data from the seismic vessel to eBird reduces the time to first position fix considerably – giving eBird a position with one wing semi-surfaced. The built-in compass has been developed based on Kongsberg Seatex' deep knowledge and experience within sensor technology and is fully integrated with SmartWing. The compass provides heading information from a submerged eBird.
These add-ons represent further improvements to the eBird streamer positioning and control concept.
"We always try to find improvements to our solutions and these new features are excellent examples of how we combine our core technology and expertise to create improved value for our customers," says Gard Ueland, President of Kongsberg Seatex AS. "This is one step further in our offering to the seismic market, and we will continue to improve our solutions in close cooperation with our customers."