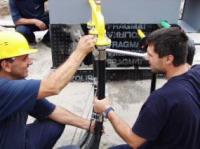 OPW is pleased to announce that its KPS LPG Pipe System™ is now approved by TÜV SÜD for use on LPG filling stations. The TÜV approval validates that the KPS LPG Pipe System™ is fit for its intended purpose and may be used on German LPG refuelling stations. TÜV has concluded that KPS LPG piping will have a service life of 25 years.
As no common European standard for plastic LPG piping exists, the TÜV approval is an important step towards introduction of KPS LPG piping, not only in Germany, but also in other countries as TÜV is a recognized authority.
Important advantages with plastic LPG piping is that corrosion problems can be avoided completely and installation time considerably reduced. Plastic piping systems will also not have problems with corrosion on the inside of the piping that will cause loosening particles to contaminate the fuel, something that can occur with steel piping.
"The TÜV approval of our KPS LPG Pipe System™ is unique as it certifies the use of plastic piping for a high-pressure application," says Lars Selling, Managing Director of OPW EMEA and previously CEO of KPS. "This is yet another confirmation that KPS and OPW are leading the way in development of high-end, high-quality products for new applications and new markets. We are now setting the standard for which requirements will be applied for this type of product in the future."
OPW's KPS LPG Pipe System™ includes the LPG pipe in 40, 60, 80, 100 or 120 meter coils and mechanical stainless steel fittings that can be installed using inexpensive standard tools. If bends are desired, the pipe is bent and fitted on site, using a simple bending tool with no welding is required.