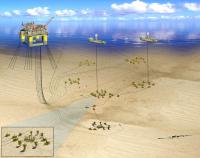 Offshore rope manufacturer, Lankhorst Ropes, has been awarded a contract by Shell Offshore Inc. to supply the mooring lines for the Appomattox development to be located approximately 140 nautical miles Southeast of New Orleans in the Gulf of Mexico.
The semi-submersible four-column production platform will be moored in approximately 7,200 feet (2,195 metres) of water using 16 mooring lines arranged in 4x4 clusters. Lankhorst Ropes is supplying 78 rope lengths totalling over 63,000 metres of Lankhorst's Gama 98® polyester deepwater mooring rope with minimum breaking strength of 21,545 kN.
The Gama 98 ropes will be manufactured at Lankhorst's state-of-the-art factory, dedicated to the production of offshore mooring systems, in Viana do Castelo, Portugal.
"This is a landmark project for Lankhorst Ropes," said Neil Schulz, sales director, Lankhorst Ropes Offshore. "Our continued investment in our state-of-the-art deepwater rope manufacturing facilities now allow gross reel weights up to 250 tonnes. This enables us to supply two ropes per reel for this project, giving a gross reel weight of 130t."