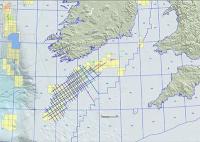 Petroleum Geo-Services (PGS) has completed the first ever full-scale simultaneous acquisition of towed streamer EM and 2D GeoStreamer® seismic. The first datasets for this MultiClient acquisition will be available late Q2 2014.
The program, which was undertaken with industry support, consisted of approximately 3,000 line km of seismic and towed streamer EM data. It was acquired over a four week period this summer in the Fastnet and Celtic Sea Basins offshore Ireland.
The seismic survey was acquired with GeoStreamer® technology, which reduces seismic noise and enables far better reservoir resolution and description. This state-of-the-art dataset will provide valuable regional subsurface coverage, tying several wells across the basin, and aims to reduce the exploration risk across the basin.
The simultaneous acquisition of Electromagnetic (EM) data, using the new PGS Towed Streamer EM system maps the subsurface resistivity, enabling greater understanding of the subsurface structures. High resistivity is associated with oil and gas accumulations. This measurement can also be used to detect basement, carbonate and salt layers.
Petroleum exploration activity is increasing within the Celtic Sea Basin, the Fastnet Basin, and the South Celtic Sea Basin offshore southwest Ireland.
Vintage seismic data in this region is generally of poor quality and has focused primarily on the Upper Jurassic and Lower Cretaceous plays. The new PGS acquisition, combining EM with the latest seismic acquisition and processing techniques, aims to confirm the presence of deeper targets. GeoStreamer® 2D data will also improve the resolution of shallower formations, including ties to the 400 MM barrel Barryroe Discovery.