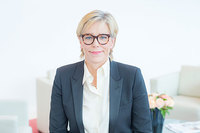 Maria Moraeus Hanssen announces a time for change on her first day as CEO and Chairman of the Board of Management of DEA Deutsche Erdoel AG.
"I am starting at DEA in a very interesting time for the company and for the business as a whole. My main task going forward will be to make sure that we continue to operate safely and deliver on business goals while we adapt to new conditions, in parallel with the talks between LetterOne and BASF to merge DEA and Wintershall," says Maria Moraeus Hanssen.
Moraeus Hanssen joins DEA at a time where both the company and the oil and gas industry are facing significant changes. The changing energy markets are leading to structural changes, and early in December DEA's owners LetterOne and BASF signed a Letter of Intent to merge DEA and Wintershall, creating a stronger Germany-based independent oil and gas company. Discussions towards a final agreement are ongoing. She underlines that the most important task for DEA is to continue running its production and projects in a way that creates value.
DEA's new CEO expresses her pride of being part of the oil and gas industry, but acknowledges that the industry faces changes: "DEA's most important asset is the competency of our employees, that will be of great importance also in a merged company. Over the years, DEA's employees have shown an impressive ability to get the most out of the asset portfolio. By continuing and further developing these efforts, DEA will be able to adapt to a world with a more diversified energy market."
Moraeus Hanssen: "It is not immoral to explore, develop and produce oil and gas. It is difficult and challenging, and for many, many years, oil and gas will still be a prerequisite for keeping the society going. Oil and gas companies' biggest challenge is still not declining demand, but how to find more oil and gas to compensate for the natural decline from existing fields."
"We need to explore, develop and produce at lower costs, increased efficiency and with less impact on climate and environment. The oil and gas industry needs to take an active role in the ongoing energy transition. Digitalisation and increased focus on technology throughout the business will be some of the levers to help us on this way," she says.
Before joining DEA, Maria Moraeus Hanssen had been working as CEO of ENGIE E&P International and Head of E&P Business Unit in the ENGIE Group in Paris for the last two years. She looks back to a broad spectrum of jobs in management and operations in the Norwegian Oil and gas industry such as Investment Director, Aker ASA (2008 - 2013), Senior Vice President Gas Supply and Infrastructure, Statoil ASA (2007 - 2008), Vice President / Offshore Installation Manager, Hydro ASA (2006 - 2007) to name but a few.
Moraeus Hanssen graduated in "Petroleum Economics and Management" from IFP School - Ecole Nationale Supérieure du Pétrole et des Moteurs, Paris, in 1992 and holds a degree in "Petroleum Engineering" from the Norwegian University of Science and Technology (NTNU), Trondheim, in 1989.
Moraeus Hanssen is also the Deputy Chairman, and the leader of the Audit Committee, of the Supervisory Board of Yara International, a global leader in nitrogen-based fertilizer production.