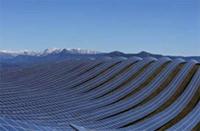 Following the landmark climate accord in Paris, the world is looking to a rapid upscaling of wind and solar energy in the energy mix in the coming decade and beyond. This will only be made possible, says DNV GL, with concomitant developments in materials, including:
alternative semiconductor material in photovoltaics (e.g. halide perovskite),
new PV module coatings, materials and coatings for the harsh conditions of CSP and thermal energy storage,
hybrid reinforcements of wind turbine blades,
cheaper permanent magnets in gearless direct drive wind turbines,
a range of innovative battery chemistries in energy storage systems.  

For any of these novel materials to be commercially viable, they should not only offer a cheaper and better alternative to existing materials, but must also be readily available and reliable over long periods of time.
"Trade-offs between availability, cost and performance may be made, but in all cases long-term reliability is a key requirement for materials used in the energy industry," says Liu Cao, researcher at DNV GL Research & Innovation and lead author of the position paper.