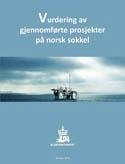 The Norwegian Petroleum Directorate (NPD), on assignment from the Ministry of Petroleum and Energy (MPE) has reviewed five field developments on the Norwegian shelf to uncover why some developments finish in line with their estimated cost target, while others are much more expensive than planned.
The report deals with field developments in excess of NOK 10 billion, with plans for development and operation approved during the period 2006 – 2008. The specific fields involved are Skarv, Yme, Valhall redevelopment, Tyrihans and Gjøa.
Most projects on the Norwegian shelf end up with development costs within the range of uncertainty stated in the plan for development and operation (PDO) (+/- 20%), but there are some projects with very extensive overruns.
The NPD's report reviews both projects with major overruns, and projects that have been carried out on schedule and with costs within the range of uncertainty.
The report also shows that overruns are not a Norwegian phenomenon. Several studies reveal the same trend internationally.
The NPD's work uncovered four main factors in project implementation that are important for the project's success: •Meticulous work in the engineering phase, that is, in the early phase. This will form the basis for decisions and the ongoing work in the project •A clear contract strategy which takes the project's most important risk elements into account, such as use of new technology and major equipment components •Thorough prequalification of the suppliers who contribute to the project •Good operator follow-up of the project. This is crucial, regardless of where in the world the construction takes place
All of the projects reviewed by the NPD were built during a period when the market was tight. The high level of activity is a contributing factor to the cost overruns, however, the most important causes lie in the planning, contract strategy, supplier follow-up and project follow-up.