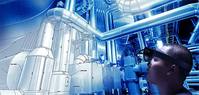 The oil price collapse in June 2014 triggered a wave of cost reductions across the industry. Global oil and gas companies slashed capex spending by 40% between 2014 and 2016. Because of the downturn, projects worth a total of USD 620 billion are estimated to have been deferred or cancelled through 2020. But there is reason to be positive for the future. Prices are slowly recovering with Brent crude up by around 90% in 2016 to just over $50 per barrel. Although this is still way short of the post-recession highs in 2011 ($115 per barrel), it is evidence of a slow but steady recovery.
The past 3 years have driven oil and gas companies to adopt new operating models to combat low oil prices, which have been centred on reduced workforces and less capital expenditure. They have turned to new technologies to unlock efficiencies like this and as economic prospects start to look up, this will become central to staying competitive. Virtual and augmented Reality (VR/AR) is being used to upskill the existing workforce, while the fourth industrial revolution could hold the key to making reservoirs work harder with less resource.
The Two-Fold Workforce Issue
The talent shortage was one of the biggest challenges facing the oil and gas industry before the 2014 price crash. It was seen as a barrier to the full potential of "the shale revolution" and driving growth in deep-water exploration. However, the industry-wide cost-cutting campaign from 2014-2016 saw around 400,000 workers let go which has led to a far more pronounced talent crisis today. With oil prices rising, companies are once again looking to expand their operations, and thus the talent barrier could become a major concern again.
To compound this challenge for skilled labour further, half of the industry's current workforce will be eligible to retire in the next 10 years. They will take a significant amount of technical and institutional knowledge with them unless something radical is done. The often-isolated nature of the oil and gas business, with offshore and onshore drilling sites in remote locations across the world, makes the effective dissemination of this knowledge very difficult. This becomes even more of a challenge for organisations with stretched workforces, who are unable to spare employees to continuous training courses.
In response, the oil and gas industry it starting to adopt emerging technologies such as VR/AR to help combat the current and future skills challenge. Using tools like smart glasses, oil and gas companies can train employees on the job remotely, while ensuring procedures are carried out correctly. This also significantly reduces the risk of human error, as employees will be able to use VR to prepare themselves for real-life situations. Once they have been trained and knowledge has been assimilated, AR will enable them to put their knowledge into practice, providing access to additional information, analysis and even virtual assistance. AR means that no operative is alone in the field. Both these emerging technologies ensure the effective transfer of technical knowledge from more experienced members of the workforce to new entrants into the team, both through VR training and AR on-the-job support and supervision. This will not only dramatically reduce the risk of accident, it will also enable companies to make significant profits by reducing the costs associated with these errors.
Drilling for Data
We are heading towards the fourth industrial revolution – often referred to as Industry 4.0 – that is being driven by the Internet of Things (IoT). In the wake of lower oil prices and tighter OpEx budgets, organisations have been forced to look closer at how their assets and reservoirs perform. For example, industry benchmarks estimate that the typical offshore platform runs at only 77% of its production potential. That shortfall translates to 10m barrels per day – USD 200 billion in annual revenue. oil and gas companies are looking at solutions for this, improving operational efficiencies using data analytics.
For oil and gas companies looking to solve this challenge, they must take a three-pronged approach. First, they need to embed intelligence by integrating sensors into their assets. Second, they must connect that intelligence by pulling data from thousands of those sensors into a central cloud platform. And finally, they can create actionable intelligence by analysing that data.
This is where the Internet of Things comes into play. More than just allowing companies to manage their existing assets, IoT enables the creation of a new asset in the form of information about separate areas of their business. Increased data capture and analysis, according to Deloitte, could help Oil & Gas companies save millions of dollars by cutting down unplanned well outages. It could also help them increase their output by as much as 10% over a 2-year period.
This principle can be applied to any asset, whether it's an ocean rig, land-based exploration or downstream processing plant. Insight from a connected approach like this can lead to modifying operating procedures to get maximum efficiency. In turn, potential failures could be identified and prevented before they even occur, meaning operators could more accurately predict when maintenance would be required for assets. This approach comes down to reducing costly and unplanned downtime, while extending the life of valuable assets by not replacing them too early.
By focusing on efficiency in this way, oil and gas organisations will also minimise the expense of maintaining costly inventory for spares. Using IoT effectively can also help firms to solve the impending skills shortage. Sensors reduce labour requirements, taking the burden of manual testing and inspections away.
Pressures since the June 2014 crash have forced oil and gas companies to look more closely at their operations and assets to find efficiencies. Though this has been a challenging time, it has laid the foundations for a prosperous future. Oil prices are showing signs of recovery and the industry needs to examine the benefits that technology can bring to improving performance across organisations. In this way, tapping into data analytics and IOT is the future for oil and gas.