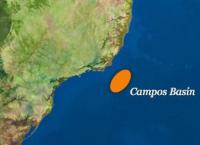 Petrobras has completed drilling extension well 3-BRSA-1253D-ESS / 3-ESS-219D (Petrobras nomenclature), informally known as Pudim, at a water depth of 6,187 feet (1,886 meters), in the Espirito Santo Basin post-salt offshore Brazil.
The completion of this well, which had been announced to the market on Oct. 7, confirmed the presence of excellent quality oil through log data analysis, fluid samples and cable test conducted in reservoirs located at a depth of some 14,107 feet (4,300 meters).
Drilling ended at a depth of 15,321 feet (4,670 meters). Then, a cased-hole drill-stem test was conducted at the 14,124 to 14,379 foot (4,305 to 4,383 meter) interval that confirmed the presence of light oil of approximately 35 degree API.