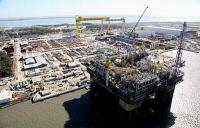 The Petrobras' P-55 platform, one of the strategic projects in the 2013-2017 Business and Management Plan, started-up the last Tuesday (12/31/13) in Campos Basin's Roncador field.
P-55 is part of Roncador's field Module 3 project and will be connected to 17 wells, 11 of which are oil and gas production and 6 water injection. Oil and natural gas will be transported from the platform via submarine pipelines connected to the unit till the oil and gas offloading system of the Campos Basin.
P-55 is a semi-submersible unit installed at a water depth of 1,800 meters, with a per day capacity for processing 180,000 barrels of oil, compressing 6,000,000 m3 of natural gas and injecting 290,000 barrels of water.
Weighing 52,000 tons and with an area of 10,000 m2, P-55 is the biggest semi-submersible platform ever built in Brazil and one of the biggest of its kind worldwide.